Online Training
Secrets of API Buttons
Slash complex workflows into single button actions!
What's the SECRET?
It's my personal and highly effective API formula building method.
My method easily integrates the API components into a 4 Part Button Structure that transforms workflows into single button clicks.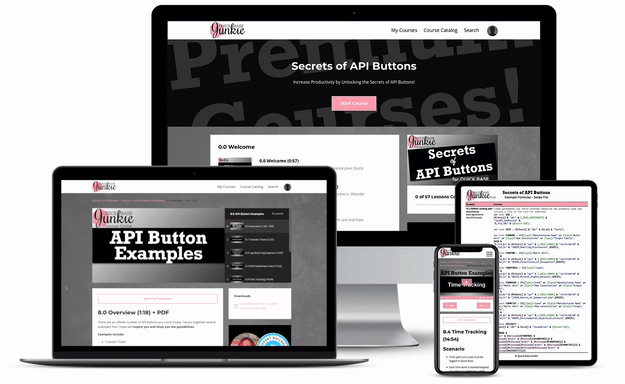 What You Get With This Course

Step-by-Step
Guidance
Everything you need to use the 5 most common QuickBase APIs in your applications
Instruction that breaks down 24 different URL formula components
An easy to remember 4 part structure that will help you create your formulas with ease
Detailed instruction on best practices

API Button
Examples
Discover multiple use cases
End-to-end demonstrations covering the business scenario, application setup, formula writing, and implementation in Quick Base.
Examples include all of the QuickBase APIs, Actions, Parameters, Functions, and Navigational Handlers covered in the course.

PDF
Downloads
Access quick references that can be used after the course
Downloads include:
Swipe files of all the demonstrated formulas that you can copy & paste
Cheat sheets for all the formula components covered
A decoder for all the field format requirements when using APIs
A troubleshooting guide

Bonus
Lessons
Nearly an hour of bonus lessons included!
Lesson topics:
Dealing with attachments
'Select Next' style buttons
Trigger a notification with a click
Bundle Option:
Add The Power of Rich Text Formulas for Custom Buttons to your order and save $67!
Dave McFadyen
Business Coach
As a Business Coach, part of my job is to bring solutions to my clients. For 10 years, QuickBase has been one of those solutions.
After taking Sharon's "Secrets of API Buttons" and "The Power of Rich Text Formulas" courses, my ability to help my clients with QuickBase has just soared! The process and workflow improvements I can make are numerous and, thanks to Sharon's courses, very easy to execute.
She explains things very well and uses real world examples that make the functionality easier to understand. I recommend that anyone who wants to get better in these areas sign up for Sharon's courses now.
Brian Cameron
Quick Base Developer - Certified Expert Builder
Sharon creates learning tools that are so valuable.
She guides you through her instructional videos so well that it easy to grasp and apply what she teaches.
Whether you are new to Quickbase or a builder with some experience under your belt, you will find Sharon's learning tools worth every penny.
What sets this course apart
I know it's possible to learn all the information contained in this course in other ways. That's how I did it. But it's an understatement to say it was difficult and time-consuming.
To help others learn, I developed a method for breaking down the complex topic of API buttons into manageable pieces.
What I've done with this course is take all that information, knowledge, and experience and package it up.
This course is rich with features not offered anywhere else!
Videos
Downloads
Assessments
Quizzes & Games
Recommended Exercises
Save / Resume Progress
Search for key terms
Troubleshooting Guide
Answers to FAQs
Closed Captioning
Completion Certificate
These features seamlessly work together to so you can learn API Buttons FAST!
Secrets of API Buttons
Course Outline
Sections: 10 - 12 + BONUS
Sample Videos
Below are several videos from the Secrets of API Buttons course.
Frequently Asked Questions
Where can I learn about other Quick Base Junkie Premium courses?
What's included in the course?
What's not included in the course?
How will I get access once I purchase?
How long will it take to complete this course?
Do your videos include Closed Captioning?
What if I'm not happy with the course?
Is Quick Base Junkie affiliated with Quick Base?