Enterprise Training Packages
Bulk Training Options for Your Entire Team
Discounted Course Bundles | Q&A Sessions | Private Office Hours | Sr. Admin Mentoring
Unlock Operational Excellence through Skill Transformation
Quick Base Junkie empowers builders with advanced skills, turbocharging your organization's growth and driving operational efficiencies.
Our expert-designed content and real-world examples offer a fast track to Quickbase mastery.
Join us on the journey to transform your operations and unlock your team's full potential.
Standard Training Features
Online access anytime so users can learn from anywhere
Step-by-step video demonstrations to show EXACTLY how it's done
Cheat sheets & Swipe Files on key topics for quick reference
Amazing bonus lessons that will take the team's skills to the next level
Optional Enterprise Add-Ons
Reporting
to verify user training progress & completion
Q&A Sessions
to resolve questions that arise during training
Private Office Hours to assist with lesson application to use cases
1:1 Mentoring
to support senior Quickbase admin development
Comprehensive & Well-structured
Training Courses and Reference Documents
Every Quick Base Junkie course is designed as a complete training package. Each section, lesson, and document work together as a cohesive experience to ensure maximum proficiency.
The training course materials are presented in an easy-to-use e-learning platform with individual lessons clearly identified. Each video lesson also includes the key points and takeaways to allow for easy searching through the platform's "Search" function.
Downloadable reference documents are also provided on key topics for a quick refresher after the course is completed and all formulas demonstrated are provided in a swipe file format that can be easily copied from.
Relatable Examples & Use Cases
Inspiring Action that Drives Results
Our training courses include examples using sample apps or downloadable datasets. This allows the user to follow along with the video demonstrations to replicate the outcomes step-by-step for deeper understanding.
In addition to basic examples to demonstrate the topic of the course, most courses include multiple real-world use cases. These lessons will not only further the integration of the new skills but also inspire the application of the skill to the user's own workflows and business use cases.
Master Trainer & Quickbase Expert
Approachable and Knowledgeable
Quick Base Junkie training is delivered by Sharon Faust, a Certified Quickbase Expert with over a decade of experience. Sharon's expertise extends beyond Quickbase, encompassing Process Improvement, User Experience, and Instructional Design, which brings tremendous value to the training she's developed.
In 2011 she began using Quickbase as a powerful tool to leverage in her Process Improvement roles and since founding Quick Base Junkie in 2018, she has been dedicated to advancing her skills and pioneering effective methods for learning and integrating new skills. Through accessible posts, captivating videos, and comprehensive courses, Sharon has helped thousands of Quickbase builders elevate their skills.
With her unique blend of expertise, hands-on experience, and unwavering commitment to empowering the Quickbase community, you can rest assured that your team will be in exceptional hands.
Mix & Match Quickbase Training Courses/Tools
Demystifying The Relationship
Table-to-table relationships are the foundation of virtually every Quickbase app. This course covers the many components of a relationship, explains how they work together, introduces several ways to optimize relationships, and provides critical warnings when modifying or removing relationships.
Mastering the Text Formula
THE MOST comprehensive course on Quickbase text formulas. This course walks builders through over 30 text functions. Each is explained, demonstrated, and put to use in relatable examples. This course is a MUST have for any serious Quickbase builder.
Button
Masterclass
Buttons are an invaluable asset to any Quickbase workflow. This course teaches how to build buttons using the rich text formula field. With the use of a little HTML & CSS code, builders will learn to create attractive custom navigation and action buttons.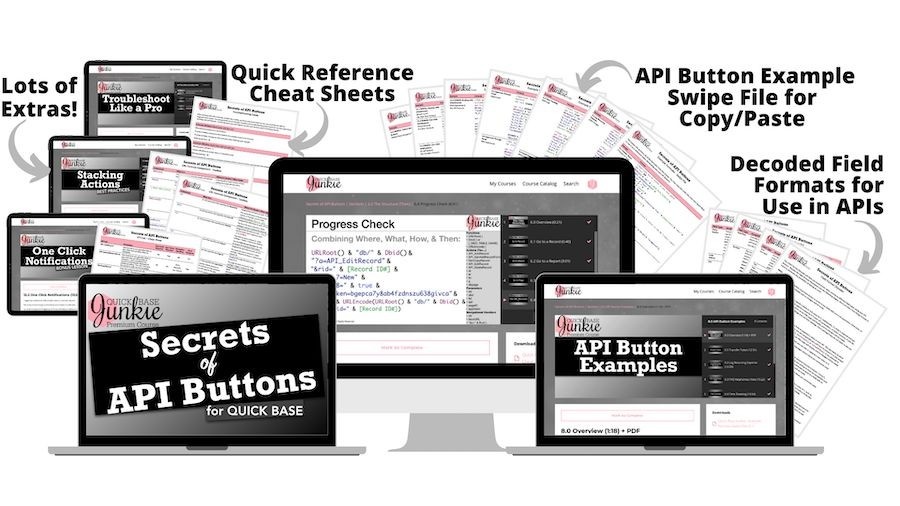 Secrets of
API Buttons
Improve workflow efficiency and productivity with API Buttons! These buttons are like mini-programs that compress multiple steps into single button clicks. This course explains what API Buttons are, walks through the components used in the button formula, and demonstrates multiple real-world scenarios.
HTML Formula
Crash Course
The missing piece for optimizing the display of information, driving focus for action, and creating visually pleasing user experiences! This course takes the complex topic of HTML & CSS coding and makes it approachable for any Quickbase builder looking to take their apps to the next level.
Intro to Jinja
for Pipelines
An instrumental addition to your Quickbase Pipelines. Jinja is the language used to transform and manipulate data between sources. This course not only introduces the basics for using Jinja, but also addresses common pitfalls, demonstrates examples, and includes a 13-page library of functions.
HTML Formula Converter Tool
A must have for anyone using a lot of HTML in Quickbase. This tool instantly converts any block of HTML text into a Rich Text Formula friendly text string. STOP endlessly typing double quotes to create text strings and escaping or replacing the internal quotes. The Super Fast HTML Formula Converter does the work for you and retains all line formatting, which means WAY less time and no ugly unmanageable blobs of text.
What Quick Base Junkie Students Are Saying
Request a Training Package Quote
Contact Us
Let's build the perfect training package!
I typically respond by email within 24 hrs (M-F).
Please check your junk/spam/promotions if you have not received a reply within this time.
Frequently Asked Questions
What is the minimum purchase size for Enterprise savings?
5 of the same course or bundle OR $5,000 total purchase (mix and match) in a single purchase. Individual courses range from $97 to $497 per user.
How much can I save by purchasing multiple licenses together?
Discounts range from 10% to 40% depending on volume.
Can I get a quote or invoice?
Absolutely! Let us know what you need using the contact form on this page.
Can the training be hosted on our LMS?
Possibly. There are disadvantages, such as missing out on content updates. Let us know if this is something you're interested in discussing.
Are there any live components to your training?
No. However, if this is something you are looking for let us know as it may be possible to add on Q&A Sessions, Office Hours, or Mentoring.
Will certificates of completion be issued?
Yes. Anyone who completes the final course survey will receive a certificate.
Can I get reporting on course progress & completion?
Yes. This service can be added to your package. Let us know if this is something you're interested in.
Can licenses be shared?
No. Each individual will set up their own login and password that is not to be shared.
Can a license be given to someone else if they leave the company?
If the training was never accessed, it may be re-provisioned up to 1 time.
Do all licenses purchased need to be immediately assigned?
No. If you wish to purchase more than your current need, you may provide the additional names & emails at a later date.