Transform Your Quickbase Apps with on-Demand Training
Combine your business knowledge with new skills to deliver amazing results in record time!
Quickbase Training Bundles
Have a Team to Train?
Quick Base Junkie helps organizations develop great talent from within, maintain a competitive advantage by equipping builders with enhanced skills, and improve the bottom line with operational efficiencies gained through optimized workflows.
Through expert-designed content, step-by-step demonstrations, and inspiring real-world examples, Quick Base Junkie training is the fastest path to Quickbase mastery.
Enterprise Training Packages
Individual Training Courses & Tools
Demystifying The Relationship
$197
Table-to-table relationships are the foundation of virtually every Quickbase app. This course covers the many components of a relationship, explains how they work together, introduces several ways to optimize relationships, and provides critical warnings when modifying or removing relationships.
More Information
Mastering the Text Formula
$197
THE MOST comprehensive course on Quickbase text formulas. This course walks builders through over 30 text functions. Each is explained, demonstrated, and put to use in relatable examples. This course is a MUST have for any serious Quickbase builder.
More Information
"This course goes beyond what you might learn in the QuickBase training videos and brings it all together into a more concise and practical format."
– Tamera B. (Demystifying the Relationship)
The Button Masterclass
$197
Buttons are an invaluable asset to any Quickbase workflow. This course teaches how to build buttons using the rich text formula field. With the use of a little HTML & CSS code, builders will learn to create attractive custom navigation and action buttons.
More Information
Secrets of API Buttons
$497
Improve workflow efficiency and productivity with API Buttons! These buttons are like mini-programs that compress multiple steps into single button clicks. This course explains what API Buttons are, walks through the components used in the button formula, and demonstrates multiple real-world scenarios.
More Information
"If you want some serious gems on building buttons, this is the course to take! Once you learn these tricks, you also gain a basic understanding on how to build the buttons, and begin to get creative in other ways using buttons to extend your apps!"
– George K. (The Button Masterclass)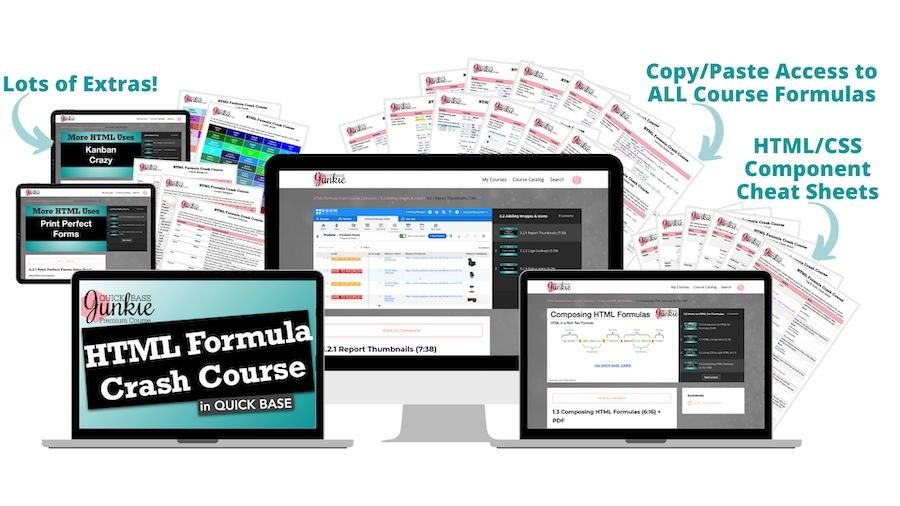 HTML Formula Crash Course
$297
The missing piece for optimizing the display of information, driving focus for action, and creating visually pleasing user experiences! This course takes the complex topic of HTML & CSS coding and makes it approachable for any Quickbase builder looking to take their apps to the next level.
More Information
Super Fast HTML Formula Converter [Tool]
$97
A must have for anyone using a lot of HTML in Quickbase. This tool instantly converts any block of HTML text into a Rich Text Formula friendly text string. STOP endlessly typing double quotes to create text strings and escaping or replacing the internal quotes. The Super Fast HTML Formula Converter does the work for you and retains all line formatting, which means WAY less time and no ugly unmanageable blobs of text.
More Information
"It just opens all the doors! Super detailed and tons of information."
– Brenda Z. (HTML Formula Crash Course)
Intro to Jinja for Pipelines
$97
An instrumental addition to your Quickbase Pipelines. Jinja is the language used to transform and manipulate data between sources. This course not only introduces the basics for using Jinja, but also addresses common pitfalls, demonstrates examples, and includes a 13-page library of functions.
More Information
"Thank you for the thorough course on Jinja for pipelines. I've been searching for a reliable course on Jinja and your course was exactly what I needed."
– Bryant I. (Intro to Jinja)
What Builders Say About Quick Base Junkie Courses
Rick Putnam
Technical Lead
★★★★★
I've been planning to write to say that the course [Secrets of API Buttons] was very helpful. I also want to say that it is very well-designed and presented and then supported with the cheat sheets, etc. Very valuable.
I'm an experienced software developer but new to Quick Base. I was hoping the course would give me new insights and understanding for solving common application workflow and design patterns. It certainly did that and more.
Thanks again for the great course.
Vaughn Wilkes
IT Projects
★★★★★
In my career have worked with more object database development. However, when I realized that I would need more coding experience to make my QuickBase applications more fully automated and functional, I looked for help. That is when I found Sharon!
I was especially struggling with some PIPELINE coding but through the information in the "Intro to Jinja for Pipelines" course I was able to enhance my Pipeline objects and get them running properly.
The way Sharon has organized and developed her course content is amazing. It is easy to follow and understand. You will be mastering QuickBase in no time!
Bob Sturgeon
Implementation Consultant
★★★★★
5/5 Stars! This course [HTML Formula Crash Course] starts with the basics and takes you through some fairly complex formulas - all in an easy to follow structure.
Even with the most basic topics I was familiar with, there were tips and tricks that will make life easier.
The topics build on each other with numerous examples and show a progression to beautiful finished products.
Highly recommended - wish I would have done this sooner!
Brian Cameron
Quick Base Developer – Certified Expert Builder
★★★★★
Sharon creates learning tools that are so valuable.
She guides you through her instructional videos so well that it's easy to grasp and apply what she teaches.
Whether you are new to Quickbase or a builder with some experience under your belt, you will find Sharon's learning tools worth every penny.
Melissa A. Freel
Director, Quality and Administration
★★★★★
I have never used this type of coding, my background has been in VB/Access.
Before this course [Secrets of API Buttons] the coding was not clear at all.
Now that I have this information, I can interpret the coding much easier.
Thanks!
Dave McFadyen
Business Coach
★★★★★
As a Business Coach, part of my job is to bring solutions to my clients. For 10 years, QuickBase has been one of those solutions.
After taking Sharon's "Secrets of API Buttons" and "The Power of Rich Text Formulas" courses, my ability to help my clients with QuickBase has just soared! The process and workflow improvements I can make are numerous and, thanks to Sharon's courses, very easy to execute.
She explains things very well and uses real world examples that make the functionality easier to understand. I recommend that anyone who wants to get better in these areas sign up for Sharon's courses now.
Frequently Asked Questions
What's included with the courses?
How long are the courses?
How are these courses delivered?
How will I get access once I purchase?
How long will I have access?
How many users is a purchase good for?
Is it possible to get an invoice for a course purchase?
Can I split a bundle into different accounts?
What if I'm not happy with the course?
Do you offer consulting or development services?
Is Quick Base Junkie affiliated with Quickbase?
Don't miss the latest:
Tips, shortcuts, cheat sheets, guidebooks, tutorials, and training from Quick Base Junkie!
Sign up now to stay in touch