Quickbase Consulting &
Application Development Services
Are you feeling time constrained? Resource short? Frustrated?
If so, my Expert Network and I are here to help with all your Quickbase needs – big or small!
We can help ease the burden by:
Building Custom Apps
Optimizing Existing Apps
Creating Reports, Dashboards, & Insights
Automating Tasks & Workflows
Adding Integrations with External Applications
Doing Data Imports with Scrub & Validation
Providing Administration & Maintenance
Performing Training & Documentation
And Much More!
Tell us about your project!
Barb Pohner
President and Partner, Knovo
"Sharon connected me with a team of Experts who immediately reached out, understood our requirements, and proceeded to build the application we need to run our business efficiently. Thank you for the referral!"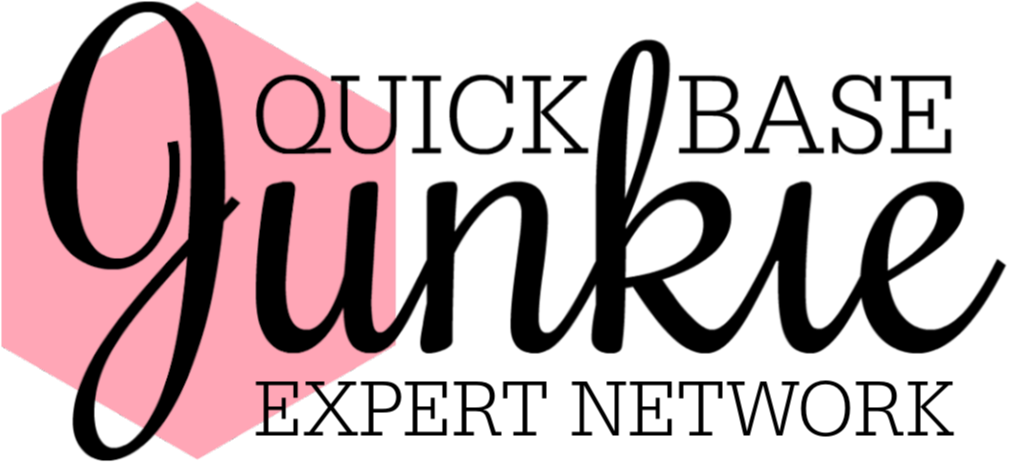 Who is Quick Base Junkie?
Hi, I'm Sharon Faust, Certified Quickbase Expert and Process Improvement Master with over a decade of Quickbase experience.
As the creator of QuickBaseJunkie.com, I've been dedicated to helping Quickbase builders learn fast and deliver more through how-to videos, resources, online training, and consulting.
With a deep understanding of Quickbase, workflow optimization, and user experience design, I've helped thousands of individuals and companies get the most out of their Quickbase apps.
How can Sharon can help your business?

As demand for my expertise grew, I realized I couldn't meet the needs of everyone on my own.
Rather than saying "no" to those in desperate need of Quickbase support, I created the Quick Base Junkie Expert Network – a hand-picked team of independent developers and development companies that share my passion and expertise.
Using my experience assisting all types of businesses with Quickbase, I'll match you with your perfect person – giving you peace of mind that your needs will be met quickly and without a fuss!
Who is in the Quick Base Junkie Expert Network?
The Quick Base Junkie Expert Network is made up of two types of incredible Quickbase developers:
Tenacious independent developers with decades of experience and an eye for detail who also look at the big picture and often go the extra mile doing what they enjoy most!
Flexible development teams who offer a wealth of diverse expertise for tricky projects that extend beyond native Quickbase plus the additional capacity and expertise for BIG projects.
Whether you're looking for help with something simple or complex, you can trust that I will match you to the right expert who will be there to guide you every step of the way.
Don't wait, connect with your Quick Base Junkie Expert today and start achieving more with Quickbase!
Dave Malone
President, McDonald Schafer
"Quick Base is our firm's primary database for all the client work we do. Although we build a lot of it ourselves, there came a point when our 'self-taught' talent was not enough. We reached out to Sharon for recommendations she could make.
She connected us to a fantastic Quickbase developer that has helped us out time and again, including some complex tech and process challenges.
We are grateful to Sharon for making this referral or we would have spent hours and even days searching, finding, evaluating and trying different sources to fill this need. She completely streamlined our search!"
Marc Packard
CEO, Sarvicus
"When our company had a challenging Quickbooks integration need, Sharon matched us with a developer that met our needs perfectly.
With her expertise, she was able to find a developer that could meet the technical challenges, but also could meet the company's expectations (time, requirements, and budget).
She saved me valuable time by eliminating the need to search for someone capable of assisting us with specific requirements.
Our project was a huge success, and Sharon was tremendous."
Pre-Packaged Quickbase Services
Take advantage of these frequently requested services available from the Quick Base Junkie Expert Network to help you streamline processes, improve productivity and drive better business results.
Below are a few examples of what's available. Services are not limited to those listed here.
If you're interested in any of these services, please be sure to mention them.
Management Dashboards
Upgrade your business performance with powerful dashboards
Our experts can integrate Quickbase with leading data visualization tools like Tableau and Power BI, streamlining data transfer and simplifying access.
With Quickbase Management Dashboards, teams can see their impact on the organization in real-time, and make data-driven decisions that drive success.
Don't miss this opportunity to empower your team and drive better business results.
Tell us about your dashboard project today.

Accounting Integration
Elevate your business efficiency with a Quickbase-QuickBooks integration
Our experts will set up a seamless sync of customers, items, estimates, invoices, bills, and more between platforms.
With this integration for either QuickBooks Online (QBO) or QuickBooks Desktop, teams can manage their workflow end-to-end without double entry or costly mistakes.
Take advantage of this integration to give your team the tools they need to achieve improved business outcomes.
Tell us about your Quickbase-QuickBooks integration project today.
Data Scrub, Prep, & Import
Unlock the full potential of your existing data with our expert assistance
Our experts will ensure that external data brought into Quickbase is accurate, comprehensive, and easily accessible.
We take the time to review, clean, and load your data, and even work with you to define key terms and fill in any gaps.
With our help, you can achieve high user adoption, reliable reports & dashboards, and be recognized as a true data hero.
Don't let poor data quality hold you back, tell us about your data project today.

Robert McEaney
Sr Manager of Expert Development, Intuit
"We were running out of bandwidth to complete a Content Management app we started some time ago. The connection Sharon made allowed us to breathe new life into the project and get it moving again. The developer she recommended was a great fit and brought a lot of new ideas to the project."
Rapid Deployment Apps
Pre-built Quickbase applications from the Quick Base Junkie Expert Network are designed to deliver immediate value and can be customized to fit your unique needs.
Rapid Deployment Apps are not limited to those listed here.
Let me know what you're looking for if you don't see it!
Track Time
Maximize your team's productivity and profitability with the Time Tracker Quickbase app.
Effortlessly track time by client and project with the Time Tracker app.
View monthly calendars
Add entries with just a few clicks
Enter time sheets individually or in bulk
See real-time project profitability
Set automatic warnings for exceeding time limits
Add notes, expenses, and receipts to entries
Integrate with project and case management systems
Connect with your accounting system
Save time and money with the Time Tracker app.
Manage Complex Projects
Manage customers, projects, budgets, staff, and time with ease.
Streamline your project management with Project Master Suite, the all-in-one Quickbase app.
Easily track who's doing what
Monitor project costs
View interactive Gantt charts
Reassign resources with drag-and-drop tools
Staff can enter time from any device
Costs and status of tasks are updated in real-time
Quickly generate professional progress reports
Stay on top of your resources today and plan for future needs with Project Master Suite.
Connect Data
Stay current on the health of your business and present data in a variety of visual formats.
Connect the dots across silos of data with the Quickbase and Tableau/Power BI integration.
Create table reports in Quickbase utilizing external data
Customize data displays
Filter and update with precision
Drill-down for detailed information
Schedule automatic updates
Create scheduled reports
Upgrade your data analysis and decision-making process with the Quickbase and Tableau/Power BI integration.
Plan Ahead
Cut costs and increase profit with easy access to accurate financial data.
Elevate your financial forecasting with the Budget and Forecasting app.
Manage your budget in real-time
Simplify the budgeting process
Create better forecasts
Reduce staff time and frustration
Enable financial reporting and revising forecasts
Deliver summary data by business segment
Adapt easily to evolving business requirements
Make your forecast bright with the Budget and Forecasting app.
We Look Forward to Hearing From You!
Don't miss out on maximizing your Quickbase investment, tell us about your project today, and let me match you to the perfect expert to help you achieve your business goals.


Tell Us About Your project
FREQUENTLY ASKED QUESTIONS
Who is in the Quick Base Junkie Expert Network?
How quickly can you match me to an Expert?
How soon will an Expert be available to help?
What size/type of projects can the Experts handle?
How much does it cost to get matched to an Expert?
Can I hire an Expert as a full-time employee?
Do you offer Quickbase training?
How can I work directly with Sharon Faust?
Do the Experts in the Expert Network work for Quick Base Junkie?
Can you help me determine if Quickbase is right for my business?
Can I join your Expert Network?
Are you hiring full-time Quickbase Developers?
Is it "Quick Base", "QuickBase", or "Quickbase"?